Or what I did on my summer vacation.

Everyone is back to school today and the dog and I finally have a few minutes of quiet. I've been wanting to write about this summer for a while and here's my chance. We live in Minnesota but my husband and I grew up in Michigan and still have a lot of ties there including our parents and siblings and their families. We both grew up in rural areas but while my house was in the country, there was a reasonably large town with an engineering college about 7 miles away. That doesn't do much if you have no transportation but it does provide some economic stability for a community. In contrast, my husband grew up in "town" in an area about 350 miles from my house. There were about 750 folks living there as of the last census and the nearest town of any substantial size with a hospital and a Walmart is 32 miles away. The region is economically depressed and has been for decades. Through a crazy set of circumstances, we have ended up with a house and a bit of land 5 miles outside my husband's hometown. It is a very different feeling to visit a place thinking I would only be an occasional visitor than when I realize I will probably end up living there as a permanent resident sometime in the future. It's maybe a morbid thought but I'm struck by the fact that if I live to be an old lady there, I might be buried in the same cemetery as my in-laws, not anything I would have ever expected after living such a transient life to this point. To say that I have mixed feelings about this possible future is like saying Denali is a hill. Still, a lot can happen in ten years and the place has grown on me after spending five weeks there this summer. So in the interest of ignoring the horse's teeth and making lemonade and all that, here are some cool bits about the place.

The south line of the property is literally on the 45th Parallel, halfway between the North Pole and the equator. Ironically, I nearly live at that same latitude now several states west. The house is on top of a hill surrounded by woods, mostly maple trees but quite a few cedar as well. There is a creek that runs at the base of the hill behind the house.




The previous owners had many trails through the woods and they are nice for snowshoeing. It is feels incredibly quiet compared to my busy subdivision but when you are actually being still and listening, the place is alive with sound. The former lady of the house was quite a gardener and I spent a lot of my five weeks weeding and cleaning up flower beds that hadn't had much attention for about two years. As I pulled up bucket after bucket of tiny but firmly rooted maple seedlings, I was surrounded by birdsong, buzzing bees, the occasional cow mooing, far away traffic on the state highway, Sunday church bells, my dog barking at the commotion from the pack of pitbull puppies being raised on the other side of the woods, my husband's chainsaw, the running creek, the prehistoric cry of sandhill cranes, and underneath it all, the thunderous rumble of the faraway artillery from the weekend training of the National Guard. Weeding is an act of meditation and observation and leaves a great sense of satisfaction looking back at completed portions of the flower beds. I left some of the flowering weeds there because the bees seemed to be particularly enthusiastic about some of them.





The top of the garden is a mixture of raspberries and tiny white roses.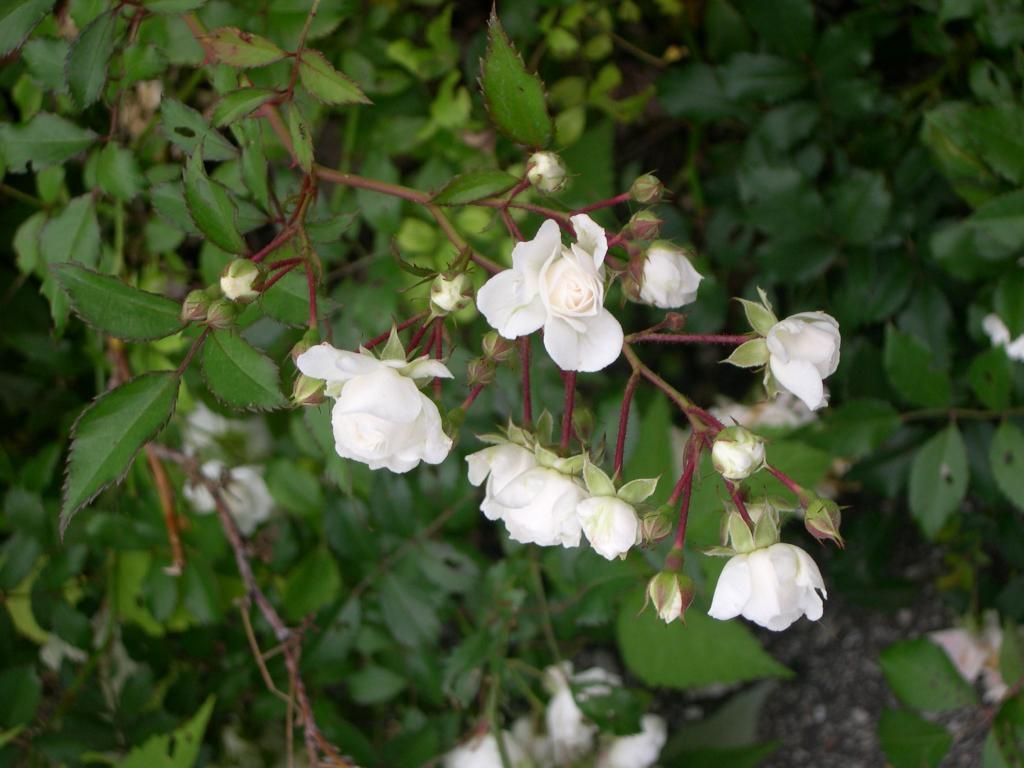 I became pretty attached to the garden and was sorry to leave just as the sedum and mums were beginning to flower. I did manage to find a much quieter visitor to the garden than the bees.




Someday I will live there long enough to start veggies in the greenhouse. I'm not so enthusiastic about chickens but there is a place for them if we need it. It still needs to be cleaned out from the previous occupants but I'm writing about the good things so we'll discuss that another time. The space originally used as a veggie garden in front of the greenhouse needs substantial work and that's for another summer too. The neighbor's cows are right beyond the tree line.




The weather was gorgeous with cool nights and days warm enough for shorts but not requiring air conditioning. The air smells like cedar and the mint planted behind the back stairs. I have other things to write about summer but I'll save them for another day.



I'll leave this entry with a picture from down the road in a neighboring farm field.
kalliel, I thought of you when I saw them and had to take a picture.