Another pretty good episode all in all with such a subdued, melancholy feel. We start off with grieving boys but we don't have any idea whether Bobby went with the reaper or if the boys salted and burned him. We don't really get confirmation that he's dead until Sam talks to Chrissy. As the weeks pass, we see Dean focused only on Dick Roman and Sam looking after the house and closing ends for Bobby. I'm guessing maybe the cabin passed on to Sam and Dean even if they are legally dead? Bobby had an interesting collection of contacts including a Frankfurter. Is that Frank the Paranoid? Although Sam is usually the researcher, it looks like Dean's doing a pretty thorough job with Roman including tracking stocks and financial data. He's not getting anywhere with the number Bobby gave them and turns out Frank is working on it. More on that in a minute (or 36 hours).
I didn't get that Dean didn't drink the beer until people started to speculate on it. I figured Dean was having alcohol induced blackouts and taking it out on Sam. Now I've seen speculation that it was disembodied Cas or ghost Bobby. It's probably ghost Rufus telling him if your gonna pickle yourself you might as well use something stronger than beer. Or it's Ellen from beyond, here to kick his ass. Dean's mental health at this point would fill a legal pad in one visit to the nearest shrink's office.
So cut to Dean with Frank (cool, therefore doomed) who's been running probability programs to figure out what the missing number is. Frank's way of talking reminds me of Crowley. Dean ends up telling another person that the current impasse can be solved without guns.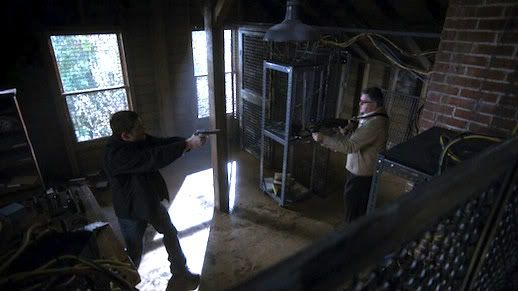 (cool shot with all the grids)
Frank's come up with coordinates for a field now owned by Dick Roman. When you look at the coordinates, the number is still off from Bobby's original number. Who knows if it matters.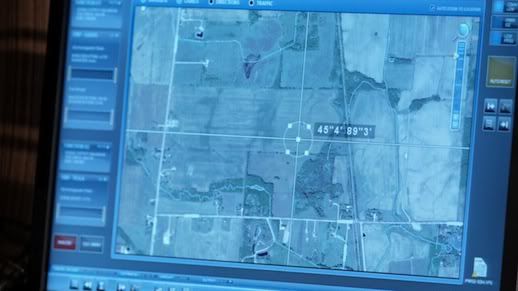 Then they're off in an RV to a field in Wisconsin. Not only are Dean and Frank confused about how many days have passed, our Wisconsin field is stuck somewhere at the end of September. I know that they have to work with the Vancouver surroundings but they could have filmed this in a field that had been turned under ready for spring so it would look a bit more like Wisconsin in mid-January. Everything is brown and usually pretty cold with maybe snow. I know, picky picky... I did like the fact that Dean knew to tie on to the cherry picker bucket.
Meanwhile Sam is off to help out a kid (mini!Sam) who has an awful lot in common with him, from hoodie over t-shirt, to blue plaid, to good with knives, to cute mole on left cheek. Cue Dean's later talk with her about college. I liked her sass and Dean in responsible adult mode.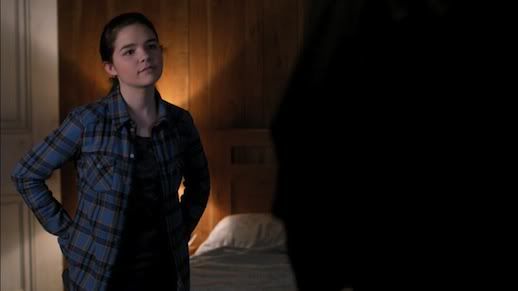 We've also got more red and yellow flowers. I'm not sure they go with danger this time but there they are.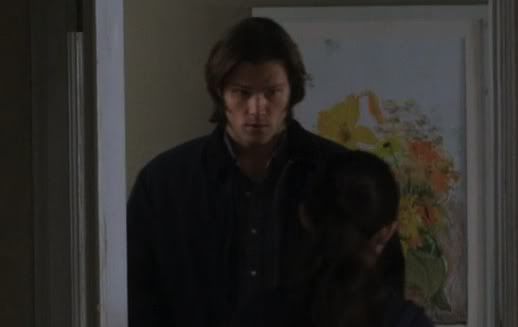 As Sam leaves...




The living room walls are like a concrete jail cell.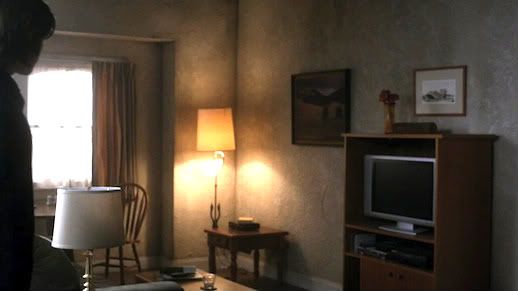 Plus in SPN country, would you choose to live in a place with these colors? It's just asking for trouble. Even the doors are trimmed in yellow.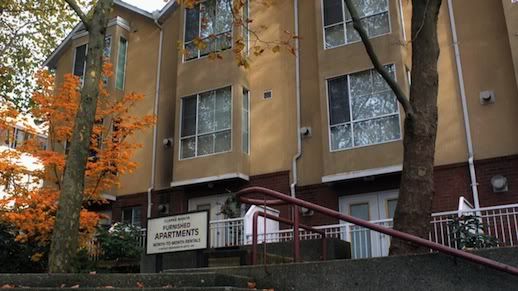 The red and yellow peril colors are all over at the truckstop where the monsters are.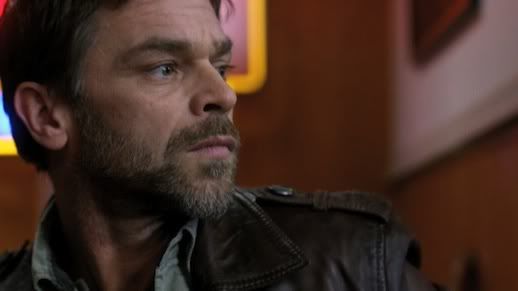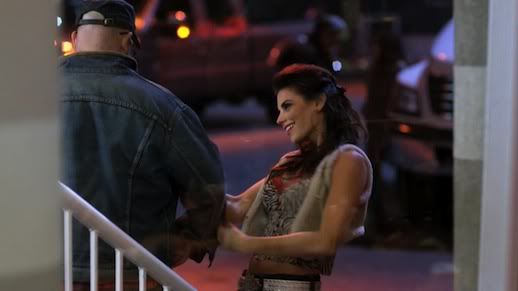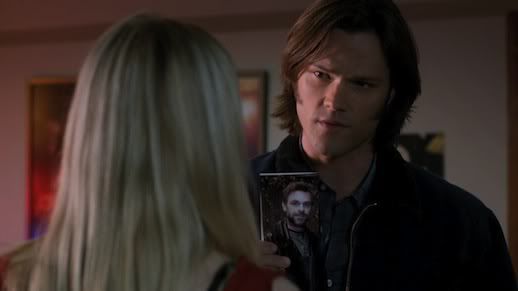 I really like the way the hunter moves from the cooler tones to the red/yellow as he's attacked.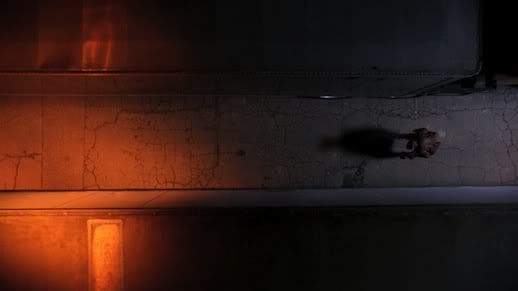 Outside the monsters' hideout.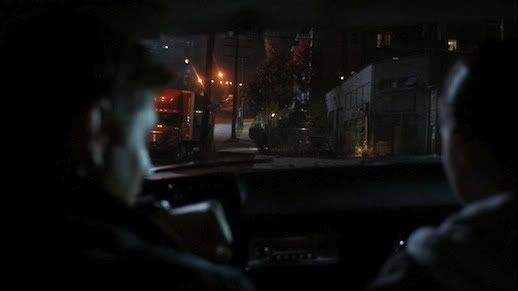 I like this bit of continuity with the courier company from Frontierland.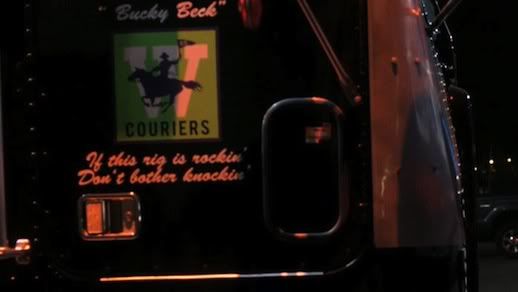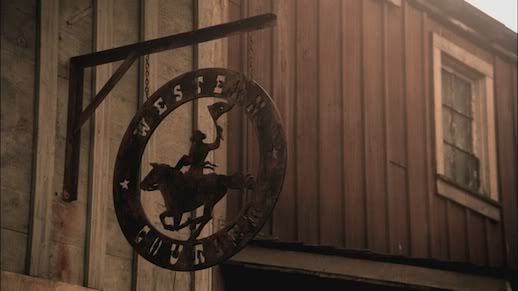 In light of speculation that Cas drank the beer, it's interesting that the angel lights are back even if there aren't any in the scene.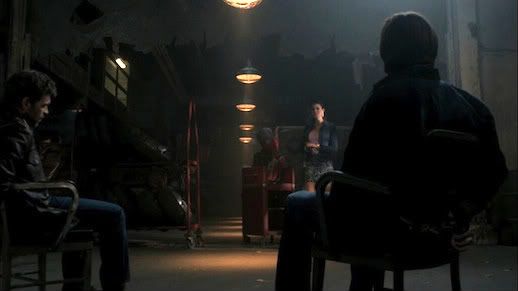 At the end we have a car scene with Sam asking Dean if he's all right. I really liked how Sam flipped on the music and rolled away from Dean to sleep when Dean said he was fine. He's not buying it and I don't think Dean really does either. Seems like a theme this year is how to keep moving forward when the bottom drops out. Dean's heard possible ways from Sam, Ellen, Bobby, and now Frank, maybe others. Can you get out of the life any way besides dying? I hope Sam and Dean get to buy curtains for Rufus's cabin.

Caps by
true_fellings